Lasik Surgery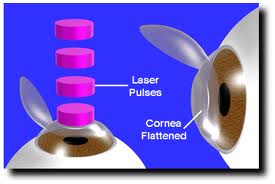 Customized lasik surgery is now even more exact and delivering better vision than ever!  The procedure takes only about half an hour and the vision is usually quite good the very next day!  Typically this is done on a Friday afternoon and by Monday you are ready to get back to work and your usual routines.
Lasik surgery allows you to enjoy a more active life style with freedom from glasses and contacts.  Swimming and sports can now be more fun and safer.  Near sightedness, far sightedness, and astigmatism are all easily treated.  Thanks to the tracking system, if you move your eye during the procedure, the laser will compensate. 
Be sure to talk to one of our councilors about your best options for lasik surgery.  If your cornea is too thin or you are too near sighted, we still have other options to correct your vision at Southwest Virginia Eye Center.